.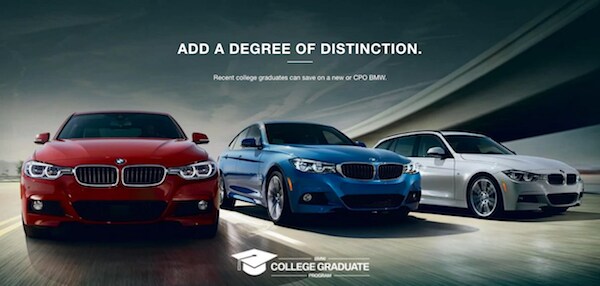 You finally received the diploma that says you're ready to take on the world. Why not have your car match your intentions? With our college graduate program, Paramus area students can score a great deal on a new BMW or Certified Pre-Owned!
The Savings
Depending on what vehicle you're shopping for, you could:
Save $1,000 on a new BMW
Save $1,000 on a certified Pre-Owned
Either one you prefer, our salespeople will take you for a tour of all models you would be possibly interested in. We'll encourage you to go on a test drive to see which one feels just right.
The Requirements
In order to receive this discount, you need specific qualifying factors. These are:
You have earned an undergraduate, graduate or associate's degree from a U.S. accredited college or university within the previous 24 months OR you are eligible to graduate within the next 6 months and have a verifiable offer of employment
You have at least 6 months of credit history with no major derogatory entries.
You have a debt-to-income ratio of 20% or less.
You can provide a copy of your diploma or your official transcript.
Security deposit will be waived unless stipulated by credit.
Please ensure you bring the right items to our dealership. You can always reach our finance department for confirmation of which items you are mandatory to bring.
The Future
That's what you are: the future. Our Paramus area BMW dealer wants to help you in making it bright with the right ride. We want you to excel forward, achieve great things, and not have to worry about your transportation. Once you get behind the ride of a BMW, you will never look at any other brand. Only these vehicles can provide the utmost luxury with uncompromising performance. Additionally, you'll see the fantastic entertainment and safety features that come with every model, which most come standard!
At Park Ave BMW, we have a wide selection of vehicles in our new and pre-owned inventory. Even if there is something you do not see, we will work our hardest to find out. Your satisfaction is our number one priority. Take your time looking over what we have to offer. If you have any questions about this program or would like to schedule an appointment, please contact us at (201) 843-7900.