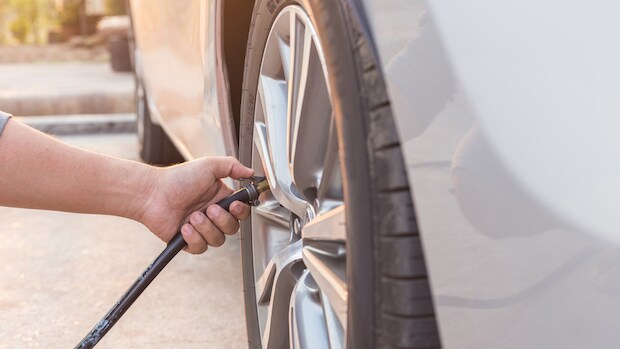 Tire inflation is a crucial component that helps facilitate your BMW's peak performance. Learn more about locating the correct tire pressure for your vehicle from our team at Park Avenue BMW.
Schedule BMW Service
Locating the Correct PSI for your BMW
To ensure your tires are inflated to the correct air pressure, you will need to determine your BMW's ideal PSI (pounds per square inch). This information can be find on a placard located on the driver-side door jamb and will provide inflation levels for each tire, including any spares your vehicle is equipped with. If your BMW is missing this placard, check your owner's manual or visit our Maywood area BMW dealer and have one of our professionals assist you.
The numbers on the placard come directly from the BMW manufacturer, recommended for when your tires are cold — as your tires warm up, air expands and the PSI will rise. Be sure not to confuse your PSI with the number on the tire sidewall; this number indicates maximum tire pressure, which is generally referenced when your vehicle is carrying its maximum load.
Why Is It Important to Monitor Tire Inflation?
Your tires are an integral part of your driving experience, and keeping them properly inflated is vital to maintaining the functions of your BMW. Driving with underinflated or overinflated tires can create issues that interfere with fuel economy and handling, as well as increasing the possibility of a tire blowout while on the road. You also run the risk of compromising your fuel economy and disabling certain safety features when tires are underinflated. If you find yourself with a flat, check out these helpful tips for changing a tire.
You should check-in with your tires monthly to make note of any wear and tear and ensure that they are staying at the correct inflation. You can do so easily at a gas station, and it may also be prudent to purchase a tire pressure gauge to make sure the numbers match. Your BMW may give you a warning that your pressure is low via its tire pressure monitoring system.
Visit Our Service Center Near Maywood
If you prefer to leave your tire maintenance to the professionals, don't hesitate to schedule service at our BMW dealership near Maywood. Our trained mechanics can diagnose any tire troubles you may be facing and get you driving confidently on the road in no time. For more information, please don't hesitate to contact Park Avenue BMW today.
Schedule BMW Service