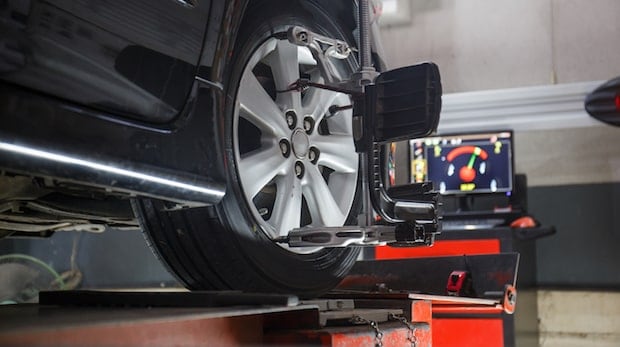 If something feels off-kilter with your BMW, it could be a sign that something is amiss with your vehicle's wheels. Depending on the symptoms your BMW is experiencing, you may be in need of a tire balance or a wheel alignment. Learn more about the differences between these two crucial services from Park Avenue BMW and schedule service with our expert technicians.
Is My BMW in Need of Tire Balancing?
A tire balance will correct the weight distribution of your tire and wheel system. This can occur thanks to uneven tire wear or imbalance caused when the rim hits a curb or pothole, as well as if you leave your car parked for extended periods of time.
When your BMW is unbalanced, it can incur additional damage to the suspension. If you are feeling vibrations in your steering wheel, floorboard, or seat, it might mean that weight is not evenly distributed. Depending on where you feel the vibration, you may be able to tell which tires are out of whack — the steering wheel generally indicates the front set, while the seat will mean the rear set.
Tell Me More About Wheel Alignment
Wheel alignment has to do with corrections to your vehicle's suspension, i.e. the system that connects your BMW and its wheels. A wheel alignment will fix the angles of your tires to prevent you from veering to one side, improving overall handling.
You'll know you're in need of a wheel alignment if your BMW is pulling to the left or right side of the road, the steering wheel tilts off-center, you notice tire squealing, or your steering wheel is vibrating while you accelerate. Your alignment may have been affected if you were in a car accident or, again, if you happened to run into a particularly treacherous pothole.
Visit Our Paramus Area Service Center
Our expert technicians recommend that you have your tires balanced every 5,000 to 6,000 miles and have your vehicle aligned every 6,000 miles or twice a year. You can also have both of these services performed during a tire rotation or as part of your scheduled maintenance. Unsure of when your BMW is due for regular maintenance? Take a look at our BMW Maintenance Schedules and determine when your particular model should be making its next visit.

Staying on top of both of your vehicle's alignment and tire balance can improve the lifespan of your tires and provide for a smoother ride when you get behind the wheel. If you are noticing any of the above issues or have other areas of concern, don't hesitate to contact us today!
Schedule BMW Service