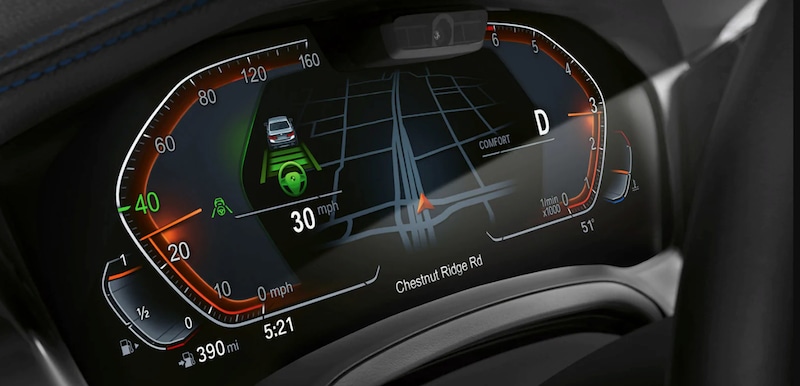 Cars these days are pretty good at communicating with their owners. If there's a problem somewhere in the system, many vehicles can be more specific than just the generic "CHECK ENGINE" lights of years past.
Your BMW dashboard display has numerous indicators, both to warn you of issues and to just alert you that certain features and functions engaged. It's important to know what they all mean to ensure you're operating your BMW correctly, and that you can bring your car in for necessary service if there's anything worrisome popping up. Our BMW service center near Paramus can gladly help you in that case.
Here's a primer on what all the different BMW dashboard lights and symbols mean.
Regular Indicator Lights
These just tell you when you have certain functions turned on, so you're aware of something you might have accidentally hit while you were reaching for the stereo knob. You don't want or need, for example to be running your high beams on a bright sunny day at noon! And if you happen to forget about that and burn out a light, not to worry: We carry all the necessary BMW replacement bulbs here at our dealer and service center near Paramus.
| | | |
| --- | --- | --- |
| Turn Signal | Headlamp Indicator | Headlamp Malfunction |
| High Beams On | Automatic Headlamp Dimmer Indicator | High Beam Assistant |
| Daytime Running Lights | Tail Light Indicator | Fog Lamp Indicator |
BMW Warning Lights
These indicator lights are a bit more serious. They'll tell you things like whether your engine oil level is too low or high, if the engine is running too hot or cold, or if there's a problem with the battery. If you encounter any of these, schedule service at Park Avenue BMW right away!

Brake Warning Indicators


Engine Coolant Temperature Indicators

Engine Oil Level
or
Oil Pressure Warning Lights

Engine Oil Sensor and Level Indicators

Charging System Warning Lights
If you have any questions about the lights you're seeing on your BMW dashboard, check your owner's manual or don't hesitate to contact Park Avenue BMW today, where one of our trained experts will be able to assist you.