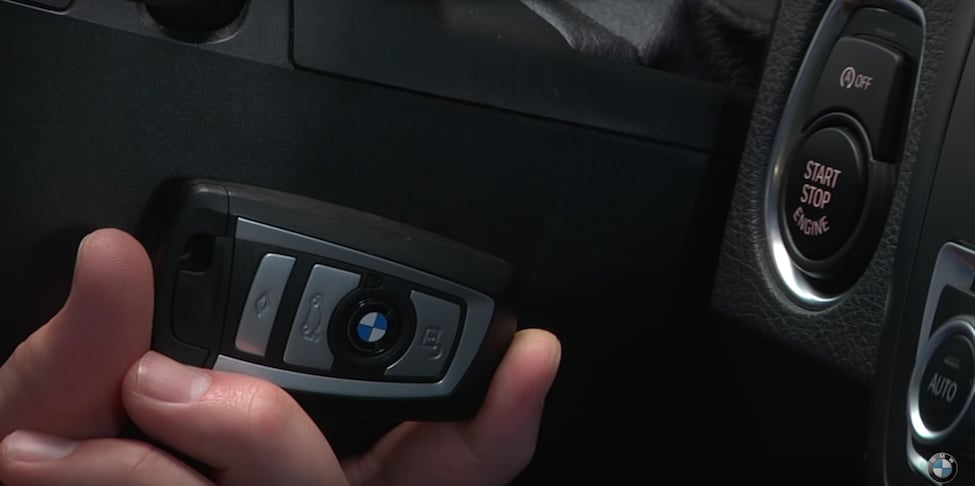 There's nothing like the convenience of push-button start: You hop in your car, press a button, and hit the road.
View BMW Inventory
But that's dependant on your BMW key fob, which is powered by a battery. The key fob needs to be near the car's internal sensors for the start button to work, and if its battery is low those sensors understandably won't be able to find it. That doesn't mean your car won't go, however.
How to Start BMW When Fob Battery is Low
To start your BMW when the key fob battery is low, take a look at the steering column. On there, there's a painted pictogram of a car key with arrows to indicate where to place the fob. Even with a dead battery, the car will still start if you press the fob against the steering column in this location.
Before you have to use this method, however, your vehicle will warn you. As the battery level begins to get low, you'll get a notification on your BMW's iDrive display screen to let you know that the battery will need to be replaced soon.
If you're having any other difficulties with your BMW's ignition system, technology suite, or mechanical function, then don't hesitate to contact our Paramus area BMW service center. Our full team of certified BMW technicians is here to help. They know your specific vehicle inside and out, and are trained to provide speedy and accurate service to get you back on the road and enjoying the BMW driving experience that you know and love.
And if you're new to BMW, then come visit us at Park Avenue BMW soon. We've got a wide selection of new BMW vehicles for you to choose from, and our team will gladly take you on a test drive so you can see why this brand and its vehicles have earned their reputation for excellence.
View BMW Inventory