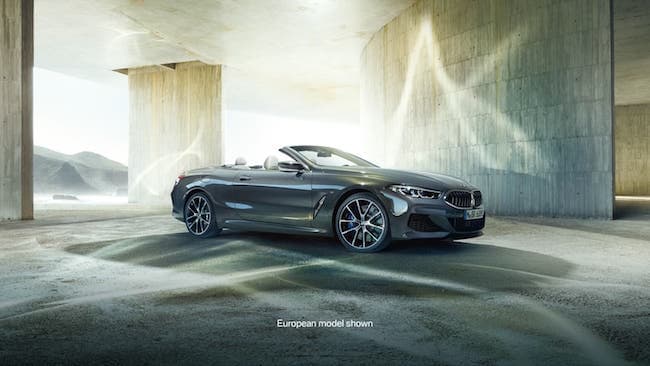 Are you a BMW enthusiast near Jersey City interested in purchasing a new sleek and performance-ready vehicle? The new BMW 8 Series convertible allows you to let your hair down and take advantage of the road in front like never before with its smooth handling, impressive horsepower, and first ever drop top. The 2019 BMW 8 Series convertible offers so much to drivers, and there are so many reasons to buy it. For this reason, we've come up with five reasons to buy the BMW 8 Series convertible.
Elegant Styling
One obvious reason that the customers at our Jersey City area BMW dealership will love the 2019 BMW 8 Series convertible is that its exterior is attractive and refined. Its signature kidney grille is enlarged along with the Air Breathers for a distinguished appearance with its new bold lines, sleek silhouette and aggressive looks. Leather-upholstered Multi-Functional seats include precise stitching and ultimate comfort inside.
'CraftedClarity' Glass Application and Ambient Lighting Create Exclusivity
The 2019 BMW 8 Series convertible offers a 'CraftedClarity' glass application to the driver-oriented controls which adds even more luxury to an impressive amenity-packed cabin. This also includes the standard ambient lighting in the interior, which also adds a layer to the feeling of exclusivity as it pulses to indicate incoming calls or other situations.
Innovative Soft Top
The key new feature in the BMW 8 Series is its innovative soft top that opens or closes smoothly and quickly in just 15 seconds. You can activate the roof at speeds of up to 31 mph (50 km/h), too.
20 Inch Light Alloy Wheels
Another attractive feature on the outside of the new BMW 8 Series is its 20-inch light alloy wheels. These allow the newest 8 series model to drive smoothly and confidently down any road.
Acceleration Rates of Sports Car Calibre
The new BMW 8 Series convertible looks good and it handles just as well. This model can sprint from 0 to 60 mph in 3.7 seconds, and it also delivers an impressive horsepower of 523 horsepower thanks to an eight-speed Steptronic transmission, too, along with active rear axle steering, and a standard limited slip differential in an all-wheel drivetrain.
For more information about the 2019 BMW 8 Series, contact us at Park Ave BMW at 201-587-9001.